$14.99
AUD
Category: Board Books | Series: Bluey
Join Bluey for a fun day at the beach. What will you discover along the way? While Mum is off for a walk along the beach, Bluey discovers a beautiful shell. She runs to show Mum and has a series of encounters that will both excite and test her in unexpected ways. Bluey has been a phenomenal success sinc e airing on ABC KIDS in October 2018, amassing legions of dedicated fans and taking the coveted position of being the most watched program ever on ABC iView, with over 100 million plays. It has also topped the Australian iTunes Kids Chart with the series peaking at #1 and consistently remaining in the Top 5. ...Show more
$14.99
AUD
Category: Board Books | Series: Bluey
Join Bluey on a dreamy night-time adventure. What will you see in the dark? Not wanting to go to bed, Bluey wishes she was a nocturnal fruit bat that stays up all night. Soon she finds herself flying through the night sky. Bluey has been a phenomenal success since airing on ABC KIDS in October 2018, a massing legions of dedicated fans and taking the coveted position of being the most watched program ever on ABC iView, with over 100 million plays. It has also topped the Australian iTunes Kids Chart with the series peaking at #1 and consistently remaining in the Top 5. ...Show more
$14.99
AUD
Category: Board Books | Series: BLUEY
It's Bingo's turn to take Bob Bilby home. Will he have fun with Bluey and Bingo?  
$14.99
AUD
Category: Board Books
Part poem, part lullaby, this gentle story celebrates a baby's wonder at our beautiful world. From Australia's favourite picture-book creator Alison Lester comes a timeless book to share and to treasure. Now in a gorgeous board book edition.  
$16.99
AUD
Category: Board Books
As everyone knows, nothingis sweeter than tiny baby fingers and chubby baby toes...From two of the most gifted picture book creators of our time, here is a celebration of baby fingers, baby toes and the joy they - and the babies they belong to - bring to everyone, everywhere, all over the world!
$9.99
AUD
Category: Board Books | Series: Alphaprints Ser.
Learn all about animals that live Down Under with this Alphaprints book of Australian Animals. From cute koalas to creepy redback spiders, the fun illustrations and rhyming text introduce unusual Australian animals to babies and toddlers. Unique and appealing Alphaprints illustration style, taking finge rprint pictures and adding photographs of everyday things for children to spot. With tactile, raised embossing on each fingerprint for little hands to explore. ...Show more
$14.99
AUD
Category: Board Books | Series: The Very Hungry Caterpillar
A much-loved classic, The Very Hungry Caterpillar has won over millions of readers with its vivid and colourful collage illustrations and its deceptively simply, hopeful story. With its die-cut pages and finger-sized holes to explore, this is a richly satisfying book for children.
$7.99
AUD
Category: Board Books | Series: Axel Scheffler Campbell Range Ser.
Little ones can join in the fun In the Jungle by pulling out the sliders, pushing up the tabs and counting all the animals! How many lazy lions are yawning? How many zebras are skipping?Children will love playing with this bright and colourful board book with gentle rhyming text and beautifully illustra ted by the award-winning Axel Scheffler.Also available: On the Farm ...Show more
$14.99
AUD
Category: Board Books
'I wrote to the zoo to send me a pet . . .' Rod Campbell's classic lift-the-flap book Dear Zoo has been a firm favourite with toddlers and parents alike ever since it was first published in 1982. Young children will love lifting the flaps to discover the animals the zoo has sent - a monkey, a lion and e ven an elephant! But will they ever manage to send the perfect pet? With bright, bold artwork, a catchy refrain and a whole host of favourite animals, Dear Zoo is a must for every child's bookshelf - and the thick card pages, chunky cased cover and sturdy flaps make it perfect for small hands. ...Show more
$12.99
AUD
Category: Board Books | Series: Never Touch
You must never touch the dinosaurs . . . except in this book! This roar-some counting book is perfect for young children. Little ones will love learning to count down from five as they explore the amazing, bumpy dinosaurs on every page.
$16.99
AUD
Category: Board Books
A beautiful brand new cased board book version of this classic picture book by the iconic Janet and Allan Ahlberg. Each Peach Pear Plum introduces characters from well-known nursery stories, such as the Three Bears, Mother Hubbard and Tom Thumb, and encourages children to participate and to find the cha racters hidden in the pictures. The text, with its strong rhyme and rhythm, is perfect to read aloud to very young children, while the game of 'I Spy' keeps children enthralled. ...Show more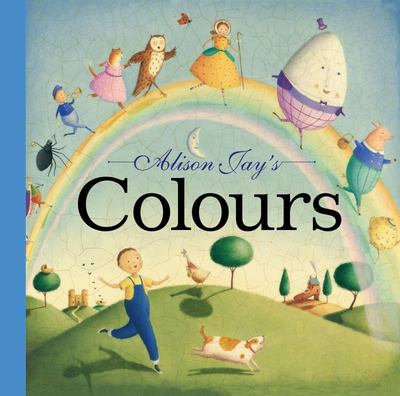 $9.99
AUD
$14.99
(33% off)
Category: Board Books
All the colours of the rainbow in the land of well-loved nursery rhymes